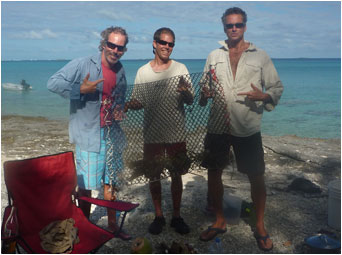 > Have a question, advice or comment?
Send an email! (DreamTime@zeroXTE.com)



Day 2,172 - Tahanea (16

°

58.11S 144

°

35.88W)
17:13 hrs - May 12th 2013


Lagoon Living

We're living off the lagoon, well, to be exact we're living in, on, and around the lagoon, a lagoon that besides its slow and inevitable descent into the sea, is the same today as it was when pioneering sailors from southeast Asia first crossed the Pacific over two thousand years ago, long before any Europeans 'discovered' these islands.
If their double-hulled canoes visited this remote region, they would have found an atoll unchanged from where we're anchored today, one that provides not only temporary respite from the open ocean, a safe haven, but a lagoon teeming with natural resources - an abundance of fish, the ubiquitous coconut palm, lobsters in their thousands marching over the reef, and perhaps even coconut crabs, although I'm not entirely sure how or when they found their way here.
With friends Chris/Jess on Namaste and Carol/Livia on Estrellita we've been modesty enjoying the bounty of lagoon living. We've hunted for lobster at night during low tide, wading just feet away from the drop off on the limestone reef edge, camping out on an island, our hammocks rigged between trees. We've opened coconuts using traditional Polynesian spikes that we carved from iron wood - selecting green nuts to drink, brown nuts to eat, and newly rooted nuts to bake into sweet coconut bread. We're free diving, too, down to depths of over sixty feet now to spear fresh grouper, jack or parrot fish. And, for a special treat, we caught three of the thousands of coconut crabs that roam these uninhabited islands, roasting them over an open fire on an unnamed pink coral-sand beach.
For the three weeks we've been anchored to the same patch of white sand, it feels as though we've had the world to ourselves. Our VHF radios have been silent, the clear night sky is lite only by moon and stars, and we all feel a natural connection to this lagoon, one that is simple, primitive and unforgettable.