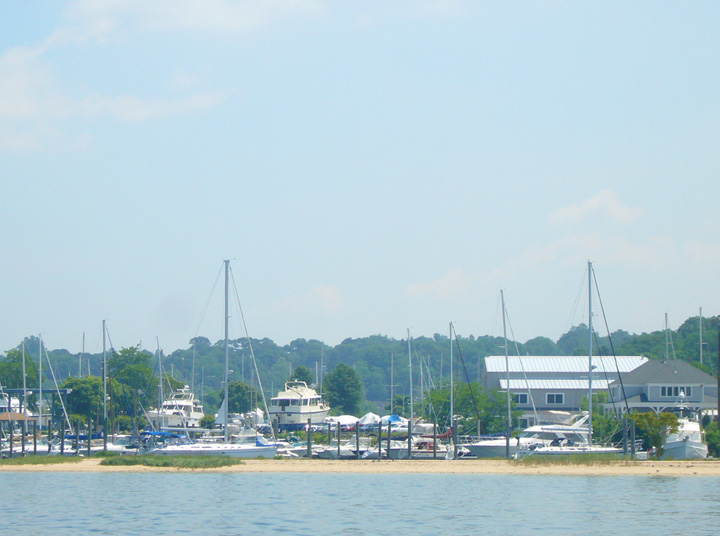 Glen Cove, New York


12:44 hrs - July 3, 2021
Home Safe

As fortune or fate would have it, when we officially closed the loop of our fourteen year world voyage, the exact slip that Dream Time departed in 2007 was empty. So seizing the opportunity we motored back into Glen Cove, New York, making familiarly nostalgic turns of the helm towards the exact latitude and longitude where, 50,252 nautical miles ago, we threw off the dock lines to begin our adventure.
We were momentarily transported back in time, guided by an autopilot of a distant yet well rehearsed routine - Dream Time gently gliding toward her slip, past the ferry pier where she had once ran aground at low tide, around the remains of an old rusted corrugated break wall that still seems to sneer at passing boats, and into Safe Harbor Marina. She knew where she was going, she was home. Catherine jumped onto our old dock, like she had hundreds of times before, over a decade ago, snugging off the port bow line on our old cleat before I hopped off to secure the springer and stern.
Completing the dizzying circumnavigation of time, which had us, if only for a moment, question the very validity of our voyage, a neighbor, a familiar face, emerged from the cockpit of his familiar boat, to say "hi", only this time snapping a photo of us securing our lines, rather than freeing them.
We have been gone for so long much has changed; friends are now married with teenage children; others have moved away to different states; some to different countries, and a few, sadly, have journeyed through this life and passed onto the next.
But much here has comfortably, reassuringly, remained the same. Swans and Canadian Geese still paddle shallow waters, congregating on the sand bar at the marina entrance. Rabbits can still occasionally be spotted hopping amongst the bushes that soften the embankment off our bow. And old friends, on their same beautiful old boats, sail the same waters, continuing a comfortable routine with the New York seasons, one that they have maintained for over three decades. The trees, the shoreline, the seaside homes, the familiar noises and faces of a Long Island yard that, for seven years, helped prepare Dream Time for her voyage, it is mostly as we remember.
Returning to the same marina, to the same slip, on a warm June day identical to that of our departure, distorted our perception, giving us the illusion that our voyage travelled not on a linear time line but rather, like our circumnavigation, wrapped around back upon itself, somehow connecting the exact moment of our departure neatly, and perfectly, with our return. I wonder, sharing this waypoint, would we recognize ourselves today, one couple preparing to sail south at the very beginning of their world voyage, with this older cruising couple who have just returned? What advice would we share?
We have been in New York for only a few weeks. We have moved out from our beloved Dream Time which, remarkably, had been our home for longer than anywhere else during our lives, and we are now back in our small Long Beach apartment by the sea. It is a change that we are still processing. But the rhythmic sound of Atlantic surf cascading up the beach at night is helping with the transition, and making us feel right at home.