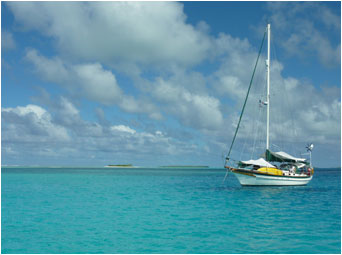 Day 2,138 - Apataki, Tuamotus (15

°

18.52S 146

°

22.53W)
20:03 hrs - April 7th 2013


Cruising Condition

Vaccinated against Elephantiasis Neuromatosa - a horrific mosquito-carried disease that has found its way into French Polynesian territory, causing victim's legs, among other appendages, to painfully swell up to over five times their normal size - we arrived back on Dream Time in good shape, well rested after our passage on the Cobia 3 (read entry), and ready to continue our journey around the world.
The cargo ship, Cobia 3, unloaded us and our mountain of supplies at Apataki a little before midnight on Tuesday last week, and taking advantage of a full moon, gentle trade winds, and our desire to sleep in our own bed, we raced across a reef-riddled lagoon in an open skiff back to the Carénage (boat yard), and after a warm welcome from the Lau family bearing gifts of fragrant handmade Polynesian flower lays, eventually, by 01:00 in the morning, we were reunited with Dream Time.
We were relieved to find her in the same condition as when we had left five month earlier. After being strapped down to a remote island in the middle of the South Pacific during cyclone season, we had no idea exactly how she would fare, but thankfully Dream Time was mold, bug and dust free. We worked until just a few hours before sunrise, waking hibernated systems and restoring order to the cabin, before, exhausted, we crawled up into the v-berth for a few hours sleep.
We launched later the same day, and by the late afternoon all systems on Dream Time, except our hot water tank which, after thirteen years of faithful service decided to spring a leak, were back in working order and in cruising condition. We've spent the last week rigging our sails, packing away supplies, cleaning and installing new gear (cutter sail blocks, liferaft hydrostatic release, top lifelines, lights, batteries and fans), and now we're ready to go cruising.
This year we will be sailing west across the South Pacific to New Zealand, dropping the acnhor along the way at islands and countries we have not yet visited: Northern Cooks, American Samoa, Western Samoa, Wallis, Futuna, so it proimises to be an exciting year. And with friends Chirs/Jess/Isabel from Namaste, Carol/Livia from Estrellita sharing a similar itinerary to ours for the next few months, we're already off to a great season.