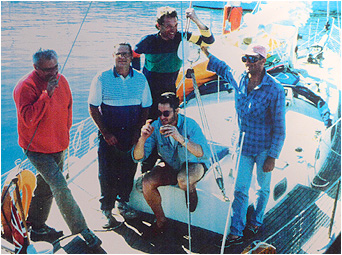 Day 3,414 - Ile Uere (22

°

18.7S 166

°

28.5E)
19:15hrs - October 4th 2016


Passages

Twenty two years ago, while backpacking around Australia, I met a cruiser who gave me some advice that changed the direction of my life.
Knowing that I wanted to live in America and that I planned to fly to New York later that year, he suggested, casually, that perhaps I should sail there instead. At the time I had no cruising experience, knew nothing about tradewinds, ocean passages and didn't know a sheet from a snubber. But the idea appealed to me, and so I set out to find a yacht that would carry me to a new life.
Five months later, on July 6th 1994, I sailed out of Sydney Harbour on Aphrodite, a forty-two foot sloop, part of a motley crew of five consisting of an auto body repairman (the owner of the yacht), a Sydney fireman, a plumber, an electrician and yours truly, a graphic designer. It quickly became apparent that no one on board had any ocean crossing experience, we didn't have a working chartplotter either, we carried only a few paper charts, there was no watermaker (we caught rain off the main sail in a bucket), there was no satcom of course, and we were only rarely able to receive weather faxes.
A month after leaving Sydney we departed from Darwin, our final port of call in Australia, but our crew had whittled down to just three - the owner of Aphrodite and Lewis Fortuna, the Sydney fireman. Our voyage took 143 days and carried us over eleven thousand nautical miles, and it was a true adventure. We narrowly avoided a piracy attack south of Indonesia; authorities threatening to throw me in jail at Christmas Island in the Indian Ocean; we were forced to photocopy charts of the Red Sea in Cocos Keeling; and we endured a violent early winter storm in the Mediterranean which gusted at sixty knots for almost four days.
The voyage on Aphrodite was a true adventure experienced at an age where anything seems possible, and it gave me a new goal in life - to one day sail around the world with Catherine on our own boat.
It also gave me a lifelong friendship, one with Lewis, the fireman from Sydney, whose wit, generosity and fortitude made our voyage on Aphrodite such a memorable experience. And now, over two decades later, Catherine and I are preparing to sail Dream Time over to Australia, which will close-the-loop of a journey I began a lifetime ago.
But most importantly, to complete the story, Lewis Fortuna has flown over from Australia to join us on Dream Time, to help us raise a continent that we departed together, under sail, over twenty two years ago. Welcome aboard mate, it's going to be just like old times!
(Except we have a chartplotter now, paper charts, a watermaker, satcom, daily weather GRIBs, AIS, proper life jackets, harnesses...)

| | |
| --- | --- |
| | Published in 2002 by Vanguard Press, Dream Time chronicles Neville's first offshore sailing adventure. Experience the highs and lows as the most unlikely crew navigate halfway around the world with no ocean crossing experience and only a handful of charts. Buy Dream Time on Amazon.com > |