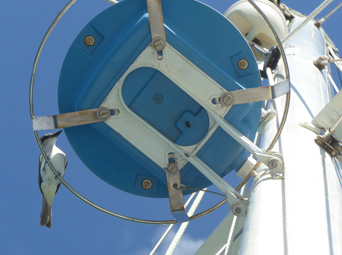 Day 4,689 - St Thomas, US Virgin Islands


09:19 hrs - April 1, 2020
Lockdown

The US Virgin Islands is the only country in the eastern Caribbean still 'open'. All other countries in the region are now officially closed, in lockdown or, at the very least, require a 14-day quarantine for new arrivals. It's clear that restrictions will change here soon, likely this week, and the USVIs will be added to the long list of countries trying to contain COVID-19 behind closed borders.
In anticipation we have returned to an anchorage on the southern coast of Saint Thomas in a quiet corner of a bay, yet close enough to dinghy ashore for supplies. We have our own little beach just a few boat lengths away on a corner of Hassel Island isolated from development by cliffs and an almost impenetrable wall of tropical forest, home to a giant breed of tree iguana, I discovered, whilst stumbling through the bush in an attempt to locate an old hiking trail on the island that Google satellite images assured me was there.
The bay is home to a family of lobsters tucked under a limestone ledge just a hundred feet off our stern, and I annoy them daily during my snorkel. Two turtles patrol the bay regularly and can often be found snoozing under a rock a few feet below the surface. An eagle ray likes to dig around in the sand under our hull, and two days ago we even had dolphins feeding in the channel. This is a good place to weather the next month. And yes, we know how remarkably lucky we are to be here.
We're settling into a routine of exercise and distractions to pass the time. In addition to my 'free diving snorkel safaris' we 'kayakercise' around the island, a 2.5 mile paddle, I go running ashore in the evening, Catherine has an impressive collection of bungies for her home gym, while I do my best to lift a stack of dive weights without denting the teak decks. For leisure I've rigged a hammock under the canopy where I spend an hour after lunch quietly reading, which usually just turns into a comfortable snooze.
Local birds like it here too and have decided that our radar dome, located half way up the mast, would make an ideal nest. For days we couldn't understand where all the twigs on our deck were coming from. Mystery solved.